Bedoukian Research is pleased to announce that we have officially resumed flavor and fragrance presenta­tions. As we continue to adjust into the new norm, keeping the safety and well-being of our employees and customers our top priority, we are proud to be the first in our industry to offer live online scheduled presentations available to perfumers and flavorists globally.
Over the past several months, our marketing team has worked diligently to find an alternative approach to demonstrating Bedoukian's range of high impact synthetic materials in person. Unfortun­ately, and even though the situation that has been brought upon us by Covid-19 is slowly improving, we are still living in a world that precludes our regular face-to-face interactions. While we miss the creative exchange that often happens with in person presenta­tions, we feel we have come up with a near perfect alternative that is not only innovative and engaging, but allows customers the flexibility to participate in these remote demonstr­ations whether they are working from their offices or their homes.
To see an outline of which Bedoukian synthetic materials will be featured in this year's flavor and fragrance remote presentation and promotion kits, please click on the appropriate link: Flavor Ingredients | Fragrance Ingredients.
If you are interested in scheduling a presentation or receiving additional information regarding our F&F promotion kits, please fill out the form to the right on the Perfumer & Flavorist website. However, kindly note that there are a limited number of slots available and presentations will be scheduled on a first come, first serve basis.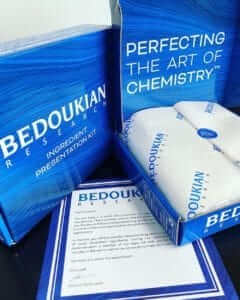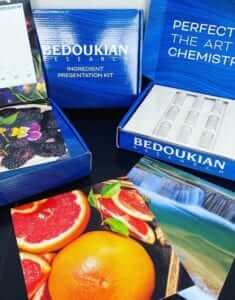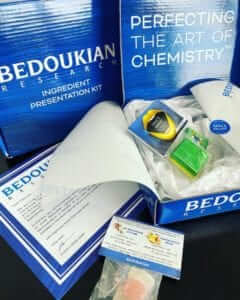 For nearly 50 years, Bedoukian Research has provided superior quality products to serve your aroma chemical needs. Today, we offer more than 350 high impact synthetic molecules while meeting a variety of regulatory requirements including FSMA Compliance, Kosher, Halal and more. In addition to our extensive portfolio of aroma chemicals, we also specialize in providing custom manufacturing services to the pharmace­utical, agrochemical, and specialty chemical industries. Supplying unique materials and providing world-class technical support while working closely with our customers is our aspiration.